3PLY surgical acc+ Taiwan Zero mask
**Fast delivery from Auckland**
Hong Kong design, made in Taiwan.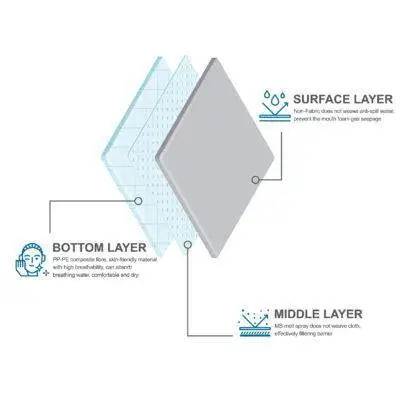 This acc+ mask includes raw materials manufactured in Taiwan throughout made in Taiwan with peace of mind and reliability.
Blue/Yellow/Pink/Pink/White/Green/Orange/Peach / Crimson / Tiffany mask.
Breathbility: Delta P(ΔP) <3
For adults, approx. 9.5cm x 17.5cm.
50 pieces in a box, non-independent packaging.
THIS PRODUCT FEATURES DUST, FILTRATION, WATER AND COMFORT, BFE >99%, PFE >99%, VFE >99%
In line with the design of Hong Kong's face type, the nose beamline can be adjusted according to the personal face shape.
Good breathability for long wear.
Masks are manufactured by acc plus commissioned by the Taiwan factory.
CE ISO13485:2016 CERTIFICATION.
CONFORMS TO TAIWAN CNS14774/CNS14775/CNS14776/CNS14777.
No latex.
Does not contain fibreglass.
Masks are kept for a period of 5 years and the date of manufacture will vary from batch to batch, as detailed in the product bag label.
Avoid direct sunlight and store it in a cool, dry place.
specification
For adults, approx. 9.5cm x 17.5cm.
Material
SURFACE LAYER-PP NON-FABRIC DOES NOT WEAVE, ANTI-SPILL WATER, PREVENT THE MOUTH FOAM GAS SEEPAGE.
THE MIDDLE LAYER-MB MELT SPRAY DOES NOT WEAVE CLOTH, EFFECTIVELY FILTERING BARRIER.
THE BOTTOM LAYER -PP-PE COMPOSITE FIBER, SKIN-FRIENDLY MATERIAL BREATHABILITY IS GOOD, CAN ABSORB THE BREATHING WATER, COMFORTABLE AND DRY.
Precautions
This product is a disposable discard mask, it is recommended not to reuse, long-term use after breathing if smelly, dirty, broken, please replace immediately.
This product has no anti-toxic effect, do not use in toxic gas and vapour environment, if necessary, please wear a special gas mask.
This product due to health considerations, shipping after no return.
The nasal line position is not perfectly set and does not affect the wearing effect.
Different batches of fabric will have chromatic aberrations.
The box will have different batches and will not affect the colour of the mask itself.
Package includes:
50 x Medical Mask